Portable Concise Oxford English Dictionary 11th Edit + sound | 150.47MB
New edition of the world famous Concise Oxford English Dictionary provides an authoritative description of the English language. With instant access to over 240,000 words, phrases, and definitions, this program is ideal for anyone needing an up-to-date dictionary of current English on their PC for study, work, or home.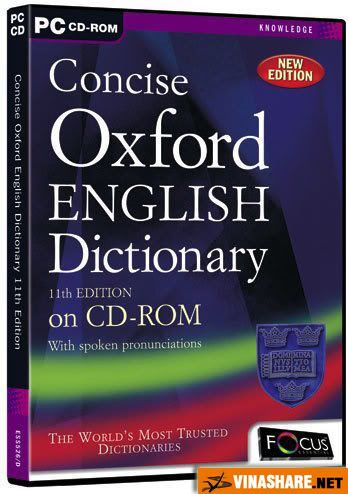 The eleventh edition of the Concise Oxford English Dictionary has been fully revised, updated, and redesigned, as is appropriate for the first Concise of the 21st century. The dictionary contains more than 240,000 words, phrases, and meanings, of which almost 2,000 are new to this edition.
The news is filled with talk of gangmasters, the congestion charge, sky marshals, and health tourism; pole dancing, bookcrossing, and speed dating are the things that entertain us; football matches can end in handbags, and bumsters are popular with middle youth and metrosexuals. And, of course, if we want to make something seem more interesting we sex it up.
The Concise also says croeso (welcome) to some Welsh words with bore da (good morning) and iechyd da (good health) joining thousands of words from all around the English-speaking world: dicky (car boot) and batchmate (classmate) from India, spinny (mad, crazy) from Canada, and bloviate (talk at length in an inflated or empty way) from America.
Features
new to this edition include a greatly increased number of boxed usage notes, offering help with tricky questions of English. There are also around a hundred special Word Histories, which trace the stories of some of the language's most interesting words. For example, did you know that cloud originally meant 'hill'? A gossip was a godfather or godmother, a lady was someone who made bread, and the original Tories were outlaws or robbers. Also (lexicographers love this one), the
words grammar and glamour are linked!
Appendices include
useful tables of factual information, a discussion of the language used in electronic communication, an explanation of the different levels of English, and a guide to good English.
The first edition of the Concise
was edited by the brothers Henry Watson and Frank George Fowler. On its publication in June 1911 it was praised as 'a marvel of condensation' and 'a miracle of condensed scholarship'. Revolutionary in its concentration on current English and in its copious use of illustrative examples, the dictionary was an immediate success.
Its compilation was indeed an Olympian achievement:
the brothers drew on the great Oxford English Dictionary, but this was then still incomplete, and they had to edit the S-Z part of the alphabet without it. If you would like to know more about the Fowlers, read The Warden of English by Jenny McMorris (OUP, 2001).
It is interesting today
to look back at that first edition of the Concise and compare it with the new edition. The cover, bedecked with art nouveau swirls, proclaims 'The Concise Oxford Dictionary, adapted by H. W. and F. G. Fowler from The Oxford Dictionary'. The book contained 1,064 pages, whereas the new edition has 1,728 pages and is a much larger volume.
The words covered
and the way they are described, have of course changed along with the language and the world. COD1 had no entry for computer, radio, television, or cinema, although it did have cockyolly bird ('nursery phrase for a bird') and impaludism ('morbid state - found in dwellers in marshes'). It defined beverage as 'drinking-liquor', cancan as 'indecent dance', and neon as 'lately discovered atmospheric gas'. Gay meant 'full of or disposed to or indicating mirth; light-
hearted, sportive', while Lesbian was simply 'of Lesbos'.
The Fowler brothers
like all lexicographers until quite recently, had to rely largely on examples of usage that were derived from their own reading or sent in by others. Modern dictionaries are written and revised with the help of searchable databases containing millions of words of English. The compilers of the new Concise made use of larger amounts of evidence than ever before, calling upon the hundreds of millions of words of the Oxford English Corpus. This latest edition offers a
description of the language that is as accurate, up to date, and objective as possible, using resources that the editors of the first edition could only dream of.
Download:
P1:
http://www.mediafire.com/?f6xblxkz0hm
P2:
http://www.mediafire.com/?97iz0tgzmem